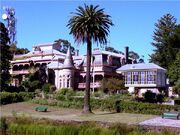 Fortuna Villa is a mansion near Bendigo in Victoria, Australia. It was first built in 1855 by Theodore Ballerstadt, who opened the first quartz crushing gold mine in the area. The area proved to have a lot of gold and this led to a gold rush to the area, at the time there where numerous gold rushes taking place throughout Victoria. As Ballerstadt expanded his gold mines he started renovating his home the Fortuna Villa, and it went from being a large but modest house, to a mansion that is seen today. A Lookout tower was constructed by the kitchen so that the businessman could look out over the gold fields he owned.
In 1871, Theodore Ballerstadt sold the villa to George Lansell. Lansell further expanded the villa so that he could move his family into the home, George Lansell died in 1906 but his wife Edith continued to renovate the house. In the second world war the house was used by the Australian Army as a mapping survey centre, after this it was declared the property of the Victorian parliament and became a listed Commonwealth Heritage site.
Fortuna Villa is Haunted
George Lansell
Edit
George Lansell was an English mining entrepreneur who became well known in Bendigo. Lansell migrated to Australia in 1853 and opened a shop selling soap and candles. In 1855 George Lansell became interested in the ongoing gold rushes in Victoria and started buying shares in mining company's, he was largely unsuccessful until he bought the Cinderella Mine near Bendigo. Lansell discovered new-found quart reefs in the mine and this made him a fortune, using this he bought another mine, the Garden Gully Mine which also proved successful. Lansell also introduced the diamond drill to Quartz-Gold mining in Australia and was well liked in the area for providing jobs and encouraging miners to take out shares themselves.
Lansell soon became known as 'Australia's Quartz King' and in 1883 he married an English woman named Edith. Edith already had six children in her home in London and so George Lansell was made to suspend his mining business and move to London. Seven years later in 1889 however, the people of Bendigo petitioned to make Lansell return to the town and revive the mining industry. This inspired Lansell to return but he had to find a way to house his family, Lansell bought Fortuna villa and extended it so that he and his large family could live in it.
George Lansell died of old age on the eighteenth of march 1906 but his ghost lives on in Fortuna Villa. People have heard or seen his ghost in the villa ever since his death and he is often seen in the lookout tower, looking over the area of the gold fields he owned.