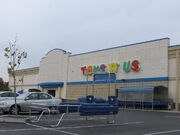 The
Sunnyvale Toys'R'Us
is a store erected in 1970 over an old ranch that existed in the 1800s. It is located in Sunnyvale, California.
Johnny Johnson
Edit
Johnny Johnson is the name of the ghost haunting the Sunnyvale Toys'R'Us in California. He does not haunt the Toys'R'Us specifically, but he does haunt the land that it was built on. The popular toy store was built on the land where he died.
Before the Toys'R'Us was built, the area used to be a farm in the 1800s. Johnny Johnson's real name was Johann Yansen, but his colleagues called him Johnny Johnson. He was apparently a mentally challenge man.
Johnson fell in love with the ranch owner's daughter, Beth Murphy. Although it was known that he was infatuated with her among the ranch hands, Johnson was never able to tell Beth that he loved her. As a result, he was devastated when Beth moved away to Boston to live with her new husband.
Johnny became very depressed. He also caught a viral infection that damaged his brain (which may be the source of his supposed mental disability). One day Johnson was told to chop wood, and accidentally hacked into his own leg and bled to death. He was found hours later near the farm well.